At NDC Oslo 2016, I did a talk about some of the recent new F# projects that are making data science with F# even nicer than it used to be. The talk covered a wider range of topics, but one of the nice new thing I showed was the improved F# Interactive in the Ionide plugin for Atom and the integration with FsLab libraries that it provides.
In particular, with the latest version of Ionide for Atom and the latest version of FsLab package, you can run code in F# Interactive and you'll see resulting time series, data frames, matrices, vectors and charts as nicely pretty printed HTML objects, right in the editor. The following shows some of the features (click on it for a bigger version):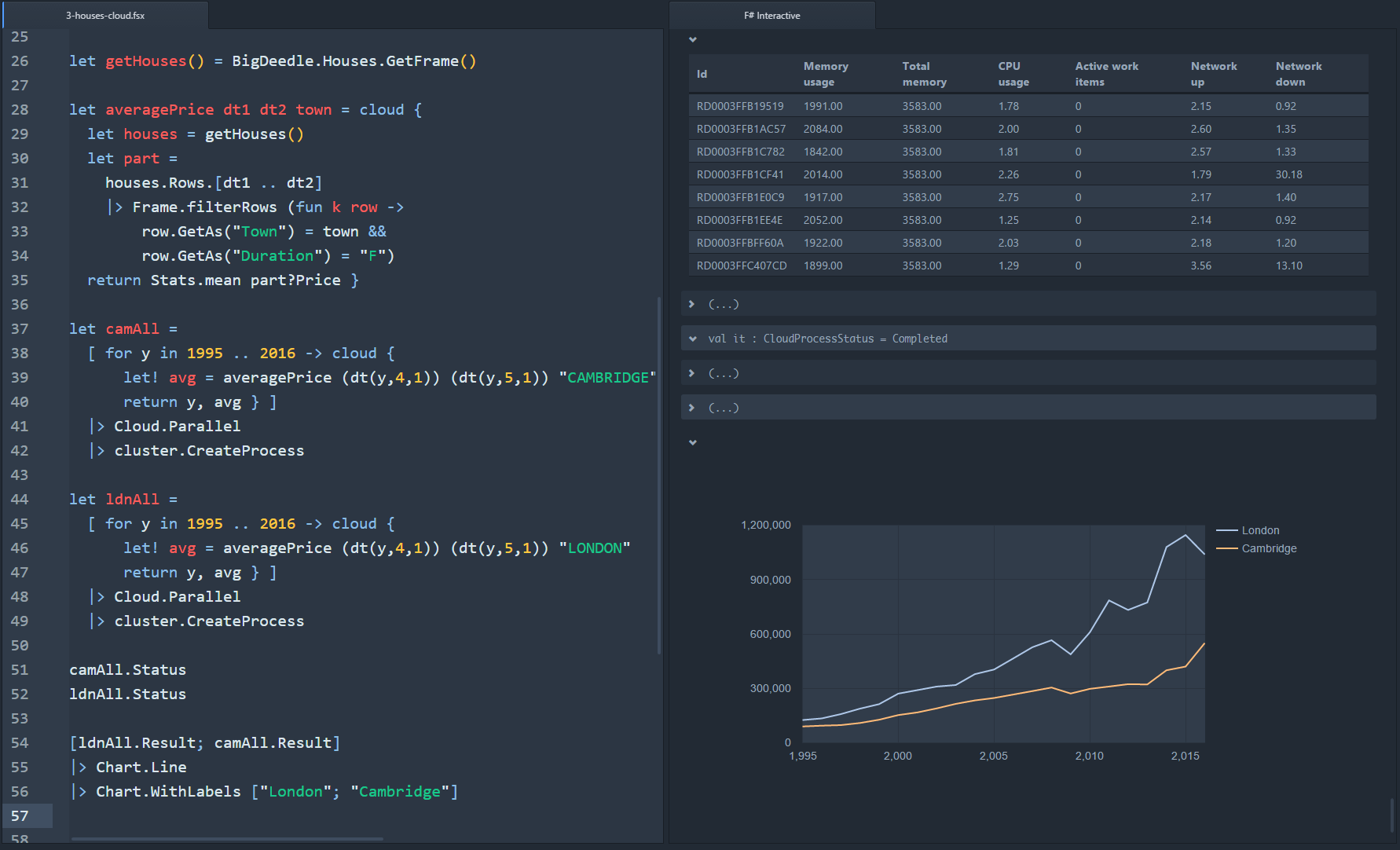 In this post, I'll write about how the new Ionide and FsLab integration works, how you can use it with your own libraries and also about some of the future plans. You can also learn more by getting the FsLab package, or watching the NDC talk:
Tuesday, 31 May 2016, 1:51 AM
Some people in the F# community have reputation for traveling too much. I do not know how that is possible, but as it happens, I will be visiting a couple of places in June, so if you are thinking about getting into F#, web development with Suave playing with the new trendy F# to JavaScript compiler Fable, or learning about the recent features in FsLab and Ionide, then continue reading!
Thursday, 26 May 2016, 1:33 PM
Combining philosophy and computer science might appear a bit odd, but the fact that the disciplines do not overlap might very well be the reason why putting them together is interesting - the antidisciplinary field that opens presents a number of important questions about programming language research and computer science in general!
Tuesday, 12 April 2016, 3:33 PM
In my PhD thesis, I worked on integrating contextual information into a type system of functional programming languages. Most of the work is on theory, but I wanted to make it more accessible. To do this, I built an interactive essay where you can write, run, type check and parse simple context-aware programs and learn more about the (dry) theory in a more fun way.
Wednesday, 30 December 2015, 6:09 PM
This year, my #FsAdvent contribution ended up on December 31.To celebrate the beginning of the New Year 2016, I built an interactive web application that visualizes 'Happy New Year' tweets across the globe. It uses a range of interesting F# libraries including F# Data Toolbox for calling Twitter, Suave.io web server and F# agents.