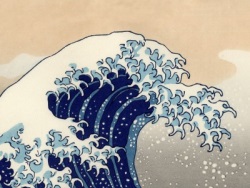 Click here to see the result live!
For the last few years, the Japanese F# community has been running the F# Advent Calendar (2010, 2011, 2012). Each advent day, one person writes an article about something interesting in F#. I have been following the advent calendar last year on Twitter and when the planning started for this year, I offered to write an article too. You might have noticed that I posted a Japanse version of the article in December as part of the advent calendar 2013.
A number of people helped to make this happen - @igeta arranged everything and helped with reviewing, @yukitos translated the article and @gab_km reviewed the translation. Thanks!
But what should I write about? It would be nice to look at some of the F# open-source libraries and projects that have been developing over the last year in the F# community. At the same time, can I relate the topic of the article to Japan? After some thinking, I came up with the following plan:
First, we'll use the F# Data library and the Freebase to learn something about Japanese art. I should add that thanks to @yukitos the library now also has a documentation in Japanese.

Then we'll pick one art work and try to recreate it in F#. Given my artistic skills, this part will definitely fail, but we can try :-).

Finally, we'll use the FunScript project to turn our F# code into JavaScript, so that we can run it as a pure HTML web application that also works on mobile phones and other devices.
Wednesday, 8 January 2014, 3:31 PM
This blog post is a tabloid-style introduction to my PhD thesis. I look at how practical motivations influence langauge design. One such practical motivation, that is becoming increasingly important, is capturing how program uses the context (or environment) where it runs. Coeffect are a way to track this property...
Tuesday, 24 December 2013, 3:58 AM
この記事は毎年日本のF#コミュニティで主催されているF# Advent Calendarへの寄稿です。それゆえに、日本文化にインスパイアされたものになっています。ここではFreebaseにある日本の画家一覧を参照して、フラクタルとFunScript(!)を組み合わせることで絵画の一部の再生成を試みています。
Friday, 8 November 2013, 6:42 AM
A month or so back, I wrote a tweet saying that F# computation expressions are amazing and no other language has anything like that. I can finally provide all the evidence by linking to a PADL 2014 paper about them.
Thursday, 31 October 2013, 1:29 PM
The hard part about open-source development is not putting the source code on the internet. The hard part is keeping the source, releases and documentation up-to-date. I'm still amazed how nicely FAKE solves this problem for F#.