Some people in the F# community have reputation for traveling too much. I do not know how that is possible, but as it happens, I will be visiting a couple of places in June and doing a number of talks, workshops and courses. So, if you are thinking about getting into F#, web development with F# using the amazing Suave library, playing with the new trendy F# to JavaScript compiler called Fable, or learning about the recent features in FsLab and Ionide, then continue reading!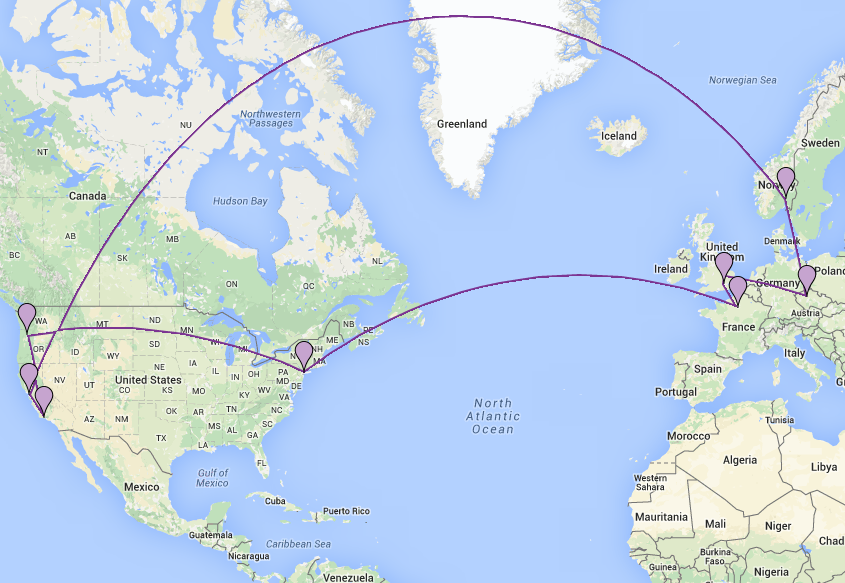 The map includes all my travels, but not all of the pins are for F# events. I'm visiting Prague just to see my family (even though there is a new awesome F# meetup there) and my stop in Paris is attending Symposium for the History and Philosophy of Programming (although we might still do something with the local F# group too).
Thursday, 26 May 2016, 1:33 PM
Combining philosophy and computer science might appear a bit odd, but the fact that the disciplines do not overlap might very well be the reason why putting them together is interesting - the antidisciplinary field that opens presents a number of important questions about programming language research and computer science in general!
Tuesday, 12 April 2016, 3:33 PM
In my PhD thesis, I worked on integrating contextual information into a type system of functional programming languages. Most of the work is on theory, but I wanted to make it more accessible. To do this, I built an interactive essay where you can write, run, type check and parse simple context-aware programs and learn more about the (dry) theory in a more fun way.
Wednesday, 30 December 2015, 6:09 PM
This year, my #FsAdvent contribution ended up on December 31.To celebrate the beginning of the New Year 2016, I built an interactive web application that visualizes 'Happy New Year' tweets across the globe. It uses a range of interesting F# libraries including F# Data Toolbox for calling Twitter, Suave.io web server and F# agents.
Thursday, 10 December 2015, 12:42 PM
When I tell my fellow computer scientists or software developers that I'm interested in philosophy of science, they first look a bit confused, then we have a really interesting discussion about it and then they ask me for some interesting books they could read about it. So, I thought I should turn my answer into a blog post!