Some time ago, I received my copies of Real-World Functional Programming. I started working on it back in May 2008 and as many people who had more experience with writing books told me, it took longer than I was expecting! Anyway, I have to say, it was worth it, holding the actual printed book with my name on the cover is just fantastic!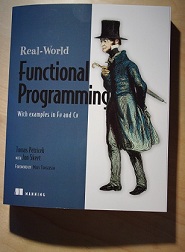 The goal of the book is to present functional programming concepts and ideas in a readable form. I wanted to create a book that will teach you how to think functionally without using the usual shock therapy that people usually feel when seeing functional programming for the first time. There are already a couple of reviews that suggest I was quite successful:
Functional Programming for the Real World, by Tomas Petricek and Jon Skeet, has been a very helpful book for moving to F# from C#, as the authors do a fantastic job of helping to explain the differences between OOP and FP.
James Black at Amazon.com
This book isn't just a simple introduction to programming in F#; it's an introductory text on functional programming covering the many reasons why it is time for this programming paradigm to finally be accepted by mainstream programmers. And it also contains much more...
CliveT, Software Engineer at Red Gate Software
... and there are many other great comments about the book at Manning book page.
Deal of the day (January 24)
Finally, here is one great news if you're interested in getting the book! Real-World Functional Programming is Manning's Deal of the Day this Sunday, January 24. On this day, the print book is available for $20 from the Manning website, with code dotd0124.
In this article series, we're talking about the Accelerator project and I'm presenting an F# library that I implemented, which allows you to use Accelerator [references] in a more sophisticated way. We've seen two examples of using Accelerator directly (see also introduction and Game of Life). In the previous article I introduced my F# library for working with Accelerator. We've seen F# functions from the DataParallel module, we implemented an algorithm that rotates an image using these functions and finally, we've seen that we can take this ordinary F# code and run it using Accelerator. This is all possible thanks to F# quotations, which we can use to get an AST (a source code) of an F# function we wrote (if the function is marked in some special way).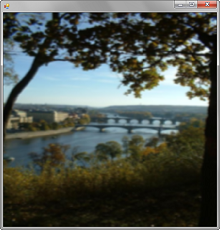 In this part of the series, we're going to look at working with quotations explicitly. We'll use meta-programming techniques to work with Accelerator. Meta-programming means writing programs that manipulate with other programs or pieces of code. This is exactly what we're going to do in this article. We'll write an F# function (running on CPU) that builds a program, which we'll then run using Accelerator.
This is quite interesting approach, which isn't possible when we call Accelerator methods as standard F# functions or .NET methods. The benefit is that we'll clearly see which parts of program run on CPU and what parts execute on GPU or using X64 multi-core target. We could also perform more complicated optimizations with the code (because this wouldn't affect the readability). Just for your reference, here is the list of articles in this series in case you missed some of them:
Accelerator and F# (IV.): Composing computations with quotations
However, enough with theory and let's take a look at some code samples! This time, we'll implement blurring of an image (also called convolution). Another example how to write this in F# using Accelerator is Satnam Singh's blog post [4]. Our example will be different, because we'll write the code as standard F# program and then have it translated to Accelerator automatically using quotations. We'll also talk about the architecture of the library that we're using and look at some performance results.
If you've been following this article series, you already know that Accelerator is a MSR library [1, 2] that allows you to run code in parallel on either multi-core CPU or using shaders on GPU (see introduction). We also discussed a direct way to use Accelerator from F# (by calling Accelerator methods directly) and implemented Conway's Game of Life. In this article, we'll look at more sophisticated way of using Accelerator from F#. We'll introduce F# quotations and look at translating 'normal' F# code to use Accelerator.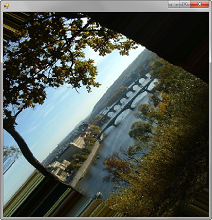 In general, F# quotations allow us to treat F# code as data structure and manipulate with it. This is very similar to C# expression trees, but the F# implementation is more powerful. We can also mark a standard method or a function with a special attribute that tells the compiler to store quotation of the body. Then we can access the quotation and traverse it or modify it. In this article we'll use a function that takes an F# quotation (containing a limited set of functions) and executes it using MSR Accelerator. Implementing this functionality is a bit complicated, so we won't discuss the implementation now. We'll leave this for some future article of this series. In future, we'll also look at other interesting possibilities that we have when writing code using quotations. Here is a list of articles in this series and of the articles that I'm planning to add:
Accelerator and F# (III.): Data-parallel programs using F# quotations
All blog posts by tag
f# (112), functional (66), research (48), c# (37), asynchronous (27), academic (26), parallel (23), programming languages (21), functional programming (20), universe (20), meta-programming (18), philosophy (16), links (15), presentations (14), data science (12), writing (12), joinads (12), web (11), thegamma (11), talks (9), data journalism (9), math and numerics (9), random thoughts (9), phalanger (8), haskell (7), mono (7), webcast (7), design (5), fslab (5), open source (5), architecture (4), visualization (4), fun (4), accelerator (4), type providers (3), linq (3), f# data (3), .net (3), training (2), coeffects (2), deedle (2), monads (2), art (2), fractals (2), funscript (2), new york (2), manning (2), books (2)